The bootTel.dat is located in the root of the system drive C:.
It is created by the inbox autochk.exe app that checks the drive for errors.
You can safely delete the file. Its removal has no impact on the OS.
The file contains last drive check info and telemetry.
The system drive contains more directories and files than Windows shows by default. In order to see them, you need to enable hidden objects in File Explorer folder properties. So, among the latter, you can find such files and folders that are not included in the list of typical contents of the root of the system partition. For example, the binary file bootTel.dat, which may seem suspicious to novice users.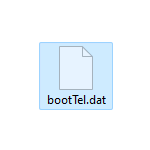 What is the bootTel.dat file?
In fact, the bootTel.dat file has nothing to do with virus activity and is created by the built-in console utility autochk.exe, which is used to check the hard drive for file system errors. This utility is usually launched after the system partition with a "dirty bit", meaning that the disk should be checked after rebooting or next turning on the computer.
Also, autochk.exe can automatically start when a user tries to check drive C using chkdsk in a running system, in a recovery environment, or when chkdsk cannot get access to the partition being checked. As the name suggests, the bootTel.dat file contains telemetry data, and possibly also a record of the disk scan performed.
Can I delete bootTel.dat?
Yes the bootTel.dat file can be deleted without any negative impact on the system. But since it is located on the system drive, you may need administrator rights to do this. The File Explorer may show you a User Account Control prompt. Nothing more – nothing less.
If you want to verify that bootTel.dat was generated by autochk.exe, check the event log entries.
Open Windows Search, and search for Event Viewer. Open the app, and expand open the Applications section on the left.
The date and time of the change in the properties of the bootTel.dat file will be close to the date and time of the "File system check" event with the code 1001 and the Wininit source.