How to remove Update and shutdown and Update and restart from Windows 10 Start menu. When Windows 10 finishes downloading updates in the background, it automatically replaces the Shutdown and Restart power management menu options with 'Update and shutdown' and 'Update and restart' options. On the one hand, the system notifies the user about the update installation. On the other hand, it practically leaves him no choice.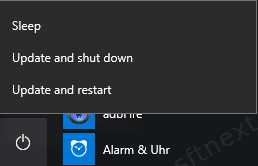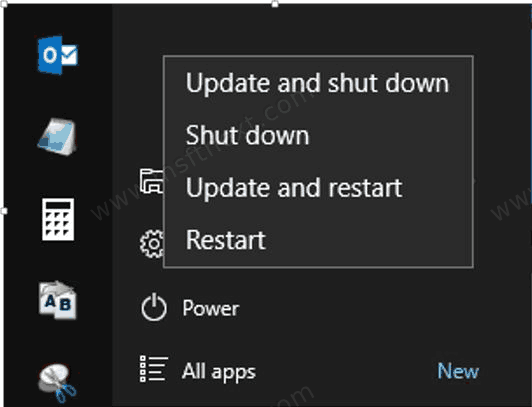 What if for some reason the user is not ready to install the update? Is it possible to reboot or shut down the system normally? To get this done, Windows 10 has a Group Policy. It can be set via the Local Group Policy Editor in Windows 10 Pro, Enterprise and other editions that include the gpedit.msc tool. Windows 10 Home users can apply a registry tweak instead.
Open the Local Group Policy editor tool. Press Win+R, type gpedit.msc in the Run box, and press Enter.
Expand the left pane to the Computer Configuration > Administrative Templates > Windows Components > Windows Update folder.
Double click on the Do not display 'Install Updates and Shut Down' option in the Shut Down Windows dialog.
Set the dot for the Enabled option, and click on OK and Apply.
The settings should take effect immediately, if it doesn't suddenly happen and nothing changes in the Start menu, log out and log back in.
That's easy, right? But gpedit.msc is not available in Windows 10 Home. If the policy editor is not accessible for you, use the following registry tweak.
Remove Update and shutdown in Windows 10 Home
Open the Regedit tool with the command of the same name (Win + R > regedit).
Go to this key:HKLM\SOFTWARE\Policies\Microsoft\Windows\WindowsUpdate.
Here create a subkey named AU.
Under the AU subkey, create three DWORD parameters: NoAUShutdownOption, NoAUAsDefaultShutdownOption, and NoAutoRebootWithLoggedOnUsers.
Set the parameter value to 1 for all of them.
If you don't like the idea of editing the Registry manually, you can download these reg files.
The NoUpdatePowerMenu.reg .reg file disables the replacement of standard power options in the Windows shutdown menu. The RestoreDefaultSettings.reg file restores the default settings.
By the way, this tweak has been successfully used to disable automatic restart after installing updates in Windows 8.1.