Many still like and enjoy the desktop gadgets introduced in Windows Vista. They were completely removed in Windows 8, which made many people sad. Microsoft is pushing live tiles as a replacement, and so they find gadgets unsafe, just like they push Store apps on top of desktop apps. If you can't imagine a desktop without your favorite gadgets, here's how to get them back to Windows 10. Just follow this short guide.

If you came to Windows 10 from Windows 7 and missed the desktop gadgets, you will be glad to know that desktop gadgets can be installed on Windows 10 using a third-party software.
Note: A lot of users have reported that these desktop gadgets don't work after installing major Windows 10 updates. If you're also having issues with gadgets after installing a Windows 10 update, please uninstall and reinstall desktop gadget program again.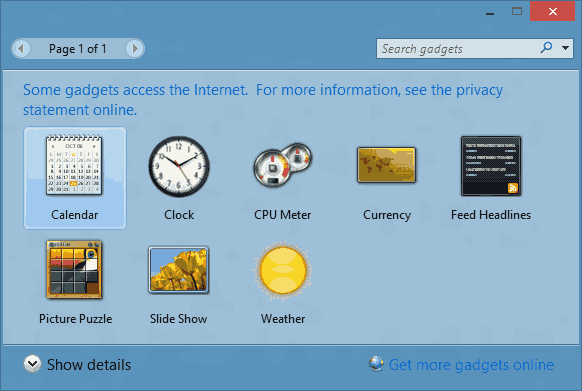 Visit GadgetsRevived and get the installer from the following page: Download the Sidebar.
Follow the setup wizard, it will take you through a few simple steps.
Close the setup wizard, and right click the desktop. The Gadgets item will be there.
Add your favorite gadgets or download more from the desktop gadget gallery.
The Gadgets will be added to the Desktop context menu, and also to the Control Panel. You can access and configure them from there.
Here is a screenshot.

Known issues
Maybe one day Microsoft will realize that removing Gadgets was not good idea, similar to the removal of the Start Menu and officially reinstates them.
Tip: For users with custom DPI settings, some gadgets may look broken. Here is a workaround by Winaero: Gadgets displaying broken in Windows 8.1 or Windows 7 with IE11. It is applicable to Windows 10 as well.