Microsoft downloads page for Windows 10 recommends the user to use Windows Media Creation Tool. It is an app which can be used to upgrade Windows 10, download the latest Windows 10 ISO file, and create a bootable USB drive.
While Media Creation Tool is the officially recommended way to download the actual Windows 10 ISO, there is another way to get the ISO file directly.
The download page on Microsoft's web site checks the user agent of the browser. If it reports the Windows operating system, the Media Creation Tool will be offered for download. However, if the user agent reports iOS, Mac OS or Android, you will see direct download links to ISO files instead.
By changing the browser's User Agent value, you can fool the download page and make it show the direct download links for Windows 10 ISOs, both x86 and x64 versions.
This post explains how to change the user agent value in Edge in order to download ISO files without using Windows Media Creation Tool.
Direct Download Windows 10 Official ISO Images
Step 1: Open the Edge browser and navigate to this page: https://www.microsoft.com/en-us/software-download/windows10.
Step 2: Press F12 to open the Developer Tools window.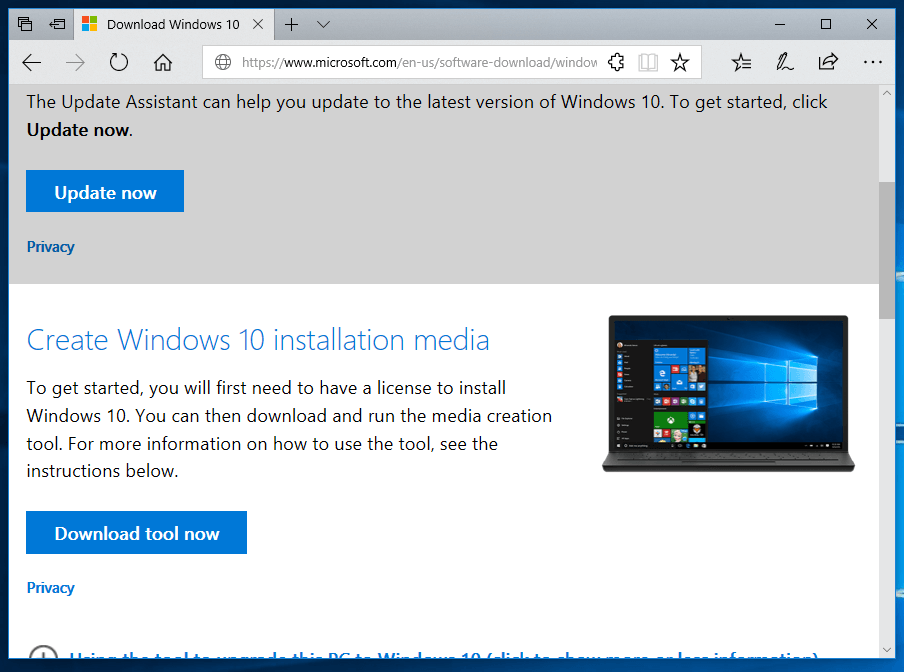 Step 3: Switch to the 'Emulation' tab and change 'User agent string' to 'Apple Safari (iPad)' or any other value which is not connected with the Windows OS.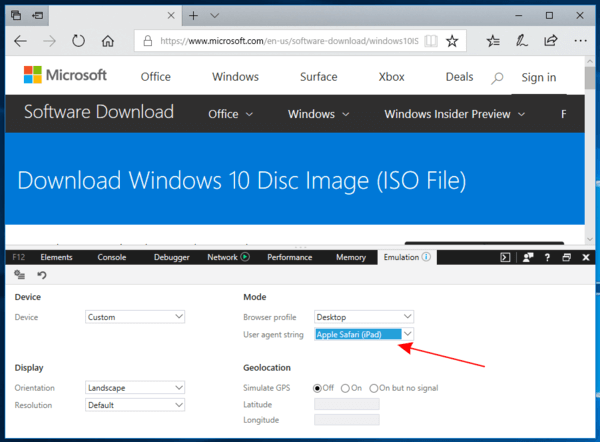 Step 4: The opened page in the browser will be reloaded automatically. If not, click on the refresh button next to the address bar or press 'F5'.
Step 5: Select 'Windows 10' in the product list, then click 'Confirm'.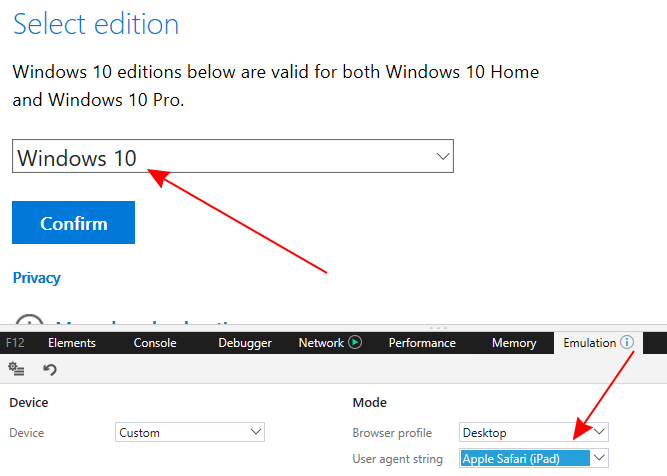 Step 6: Select the product language, and then click 'Confirm'.
Step 7: You will get the download buttons for both 64-bit and 32-bit Windows 10 versions.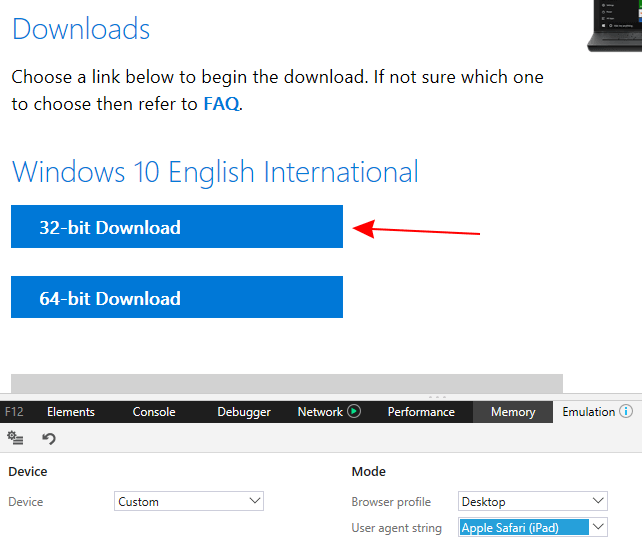 Note: The links will expire after 24 hours. Click on the link to start the download. Also, you can copy the link (right-click on the link to copy its target) and paste into a download manager app or share the link via e-mail or  a messenger.
At the time of this post, Windows 10 version 1709 'Fall Creators Update' is the latest version of Windows 10 available for download. Here are the sizes of ISO files.
Windows 10 Fall Creators Update x64  = 4.4 GB
Windows 10 Fall Creators Update x86 = 3.2 GB