When a blue screen of death (BSOD) crash happens in Windows 10, the operating system performs an automatic restart. This behavior is enabled by default in Windows 10. Sometimes BSOD disappears too quickly and you cannot see the crash error code.
To change this behavior of Windows 10 and have enough time to read the crash code, you can disable the auto restart after a BSOD.
How to disable the BSOD auto restart in Windows 10
To disable the BSOD auto restart in Windows 10, you need to change just one option. Windows 10 has a special check box in System Properties -> Advanced System Settings.
To disable the BSOD auto restart in Windows 10,
Open File Explorer. By default, its icon is pinned to the taskbar. You can also launch from the Start menu -> Windows System -> File Explorer or by pressing Win+E shortcut keys together on the keyboard.
In File Explorer, right click This PC in the left and open its properties:You'll see the following window:
Click the link Advanced system settings on the left.
The next dialog window will be opened with the tab "Advanced" activated by default. There you need to click the Settings button under Startup and Recovery.
Enable the automatic memory dump option in the Write Debugging Information section.
Now, disable the Automatic Restart option.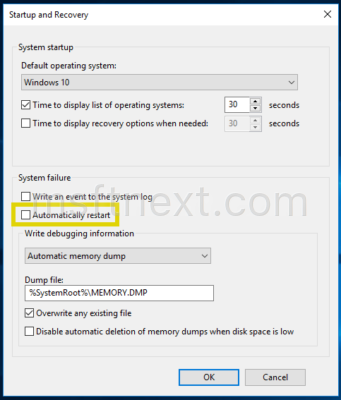 The BSOD auto restart in Windows 10 is disabled now.