In our today's guide we will review how to disable Suggest in Mozilla Firefox for search queries in the address bar. The search function in Google Chrome offers by default its own search provider. Unlike Chrome, Mozilla Firefox's search function offers several search engines at once when you type a query in the address bar of the browser. The feature is really great, but Mozilla makes it even better. They recently announced a new search option called Firefox Suggest.
This new feature will also offer recommendations from Mozilla, in addition to the results given by the search engine.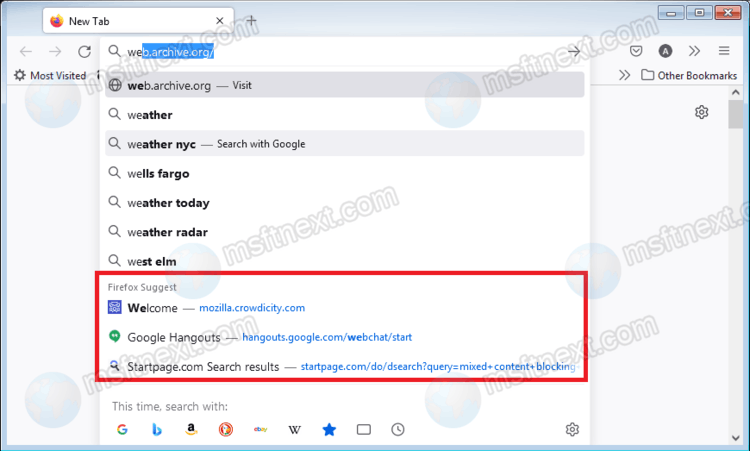 At first look, it will allow you to get more informative search results, but this is not at all the case. Firefox Suggest generates suggestions using adMarketplace, a well-known advertising platform that works with major software developers and search advertisers.  So Firefox Suggest is nothing more than another tool for Mozilla to generate additional income from users.
Firefox Suggest is already included in the current 92nd version of Firefox, but only for English-speaking users. It comes a bit later to other regions. If you don't like the change in the Firefox search feature, you can disable Firefox Suggest.
How to Disable Firefox Suggest
Open Firefox.
From the menu, select Settings.
Click Search in the left panel.
In the right pane, remove the check box from the "Show Firefox Suggest in the address bar (suggested and sponsored results)" option.
You have successfully disabled the Firefox Suggest feature.
You can also turn off the advertising display of search results even if the option is not displayed in the browser settings. There is also an about:config option for the same.
Turn off Firefox Suggest in about:config
Open a new tab in Firefox.
Type about:config and confirm that you accept the risks.
Enter browser.urlbar.groupLabels.enabled into the search box.
Change the eponymous value from true to false.
Relaunch the browser.
That's how you disable the Firefox Suggest feature in the Mozilla Firefox browser.