How to enable Always on Top Mode for Calculator in Windows 10
A new feature, Always on Top Mode, is available in the Windows 10 Calculator app. In this post, you'll learn the steps to enable or disable the feature.
In Windows 10, the Calculator app has received an update that adds a new "Always on Top" mode, which allows you to keep the app always visible. It  allows Calculator remain always visible on the screen in the system at all times.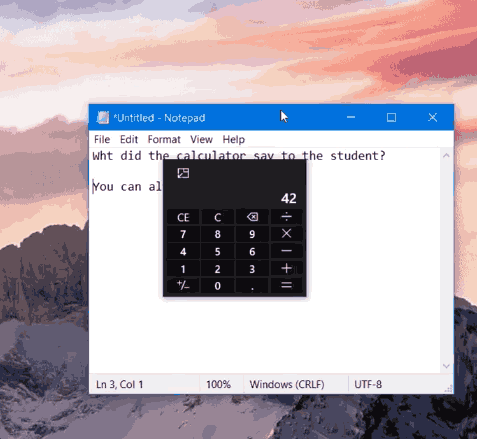 When you are using Calculator with other applications, such as a spreadsheet, Calculator will lose focus when you click on the other app (e.g. to scroll/copy). Users have requested the ability to pin Calculator on top of other windows to facilitate ongoing use with other apps.
Always on Top is available since version 10.1907.24.0 starting with Windows 10 build 18956 (20H1).
To Enable Always on Top Mode for Calculator in Windows 10,
Open the Calculator app. You can open it directly by pressing Win+R and entering calculator:// into the Run textbox.
Click on the button next to the mode name (e.g. Standard) to turn on the Always on Top feature.
To turn off Always on Top mode, click on the same button in the title bar of the compact Calculator view.
Note: If you close the Calculator app, Always on Top mode will automatically be turned off by default the next time you open Calculator. Also, the Always on Top feature is only available for the Standard mode.
Always On Top mode in Calculator will have the following capabilities:
Users can easily pin/unpin the Calculator window on top
Users can easily continue with other tasks while Calculator is pinned
Users have access to full Calculator functionality, but can always perform at least basic calculations when in the more compact view (smaller than currently allowed minimum window sizing)
If you don't see the new feature, try to update the app from the Microsoft Store. Also, you have an outdated Windows 10 version, so you need to get the latest feature update prior to updating the Calculator app.