To restore the old download panel in Chrome, disable the "Enable download bubble" and "Enable download bubble V2" settings on the chrome://flags page.
In the latest version of Google Chrome, developers have radically changed the downloads interface. They removed the download panel at the bottom of the window. It is replaced it with an animated icon to the right of the address bar. Viewing the list and download progress now requires you to click on this very icon, similar to Mozilla Firefox.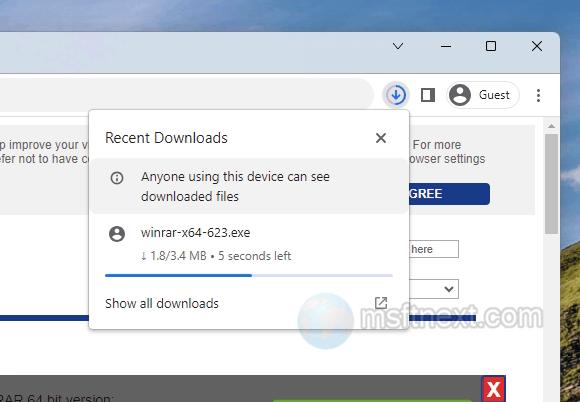 Obviously that not all Chrome users will like this change. Among them, there will definitely be those who would not mind restoring the old familiar download interface.
Well, it is quite easy, at least in the current version of the browser.
Restore the old download panel in Google Chrome
Navigate to the "flags" page in your Chrome at by typing the chrome://flags internal URL in any tab.
Now type "download" into the search box.
As a result, several options will appear on the experimental settings page. Change both "Enable download bubble" and "Enable download bubble V2" from Default to Disabled.
Relaunch the browser, and the old download panel will be restored.

Chrome with the classic download panel

Please note that in a future release of Chrome, it is possible (and highly likely) for this feature to disappear once again. If the developers ultimately decide to remove the old download interface along with the flag to enable or disable it, it will be a permanent change.
At that point, the only option will be to accept and adapt to this innovation, which may not be as negative as it initially appears.
The recent Chrome UI redesign has introduced numerous changes to the browser's appearance. Users will immediately notice the adoption of rounder corners, wider menus optimized for touch input, and various visual enhancements. Notable updates include revamped icons in the main menu, an enhanced and interactive address bar, as well as engaging color effects for tabs. The new download interface is part of these changes. It is active starting with Google Chrome 115.