How to Change the App for the Edit Menu for Images  in Windows 10 File Explorer
In Windows 10, File Explorer includes the Edit command in the context menu for images. If you right-click an image, and select Edit, the image will be opened in Microsoft Paint. In this article, we will see how to change the app for the Edit command and replace it with an image editor of your choice.
By default, the command is set to the Paint app.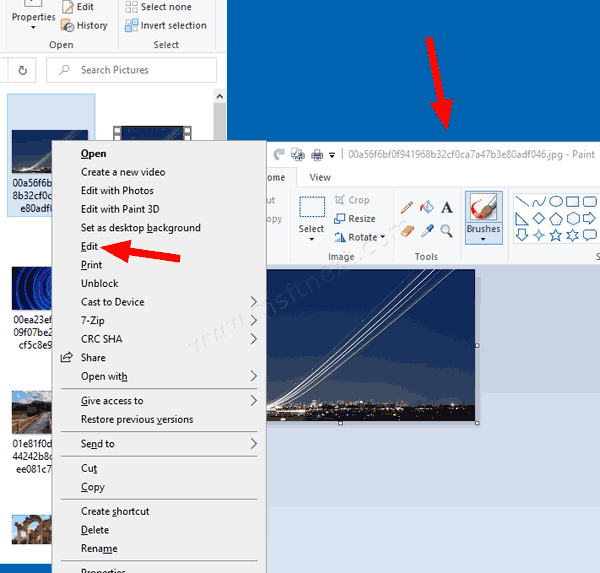 As of now, Paint remains pre-installed in Windows 10, but Microsoft may change this. Starting with Build 18963 the Paint and Wordpad apps can be removed using the Optional Features page. I think they may be eventually excluded from Windows 10 and remain available on-demand in the Microsoft Store.
Microsoft Paint
Microsoft Paint is one of the oldest apps available in almost all Windows releases. Microsoft had already tried to move it to the Store by adding a warning in Windows 10 build  17063. where Paint had a "Product Alert" button. Clicking on that button had opened a dialog that notified the user that the app will be occasionally replaced with Paint 3D, and will be moved to Microsoft Store. In Windows 10 Insider Preview build 18334 Microsoft has silently removed the Product Alert notice, but Paint is an optional feature of Windows 10 as of now.
In Windows 10, Microsoft Paint is used as the default app for the 'Edit' context menu entry for images in File Explorer. If you want to change it, File Explorer has no option for that. Luckily, you can perform a simple Registry edit to change Paint for the Edit command to any app you want.
To Change App for Edit Menu for Images in File Explorer,
Run regedit.exe from the 'Run' dialog (Win + R).
Go to the following Registry key.
HKEY_CLASSES_ROOT\SystemFileAssociations\image\shell\edit\command
On the right, modify the default (unnamed) parameter. Set it to the full path to the app which you want to use instead of mspaint.exe for the Edit menu.
Don't forget to keep the "%1" portion after the executable file's name. It is very important, otherwise the app won't be able to open the file selected in File Explorer.
In the screenshot above, you can see that the image editor has been changed from Paint to GIMP. When you right-click on an image file and choose 'Edit' from the context menu, File Explorer launches GIMP instead of Microsoft Paint.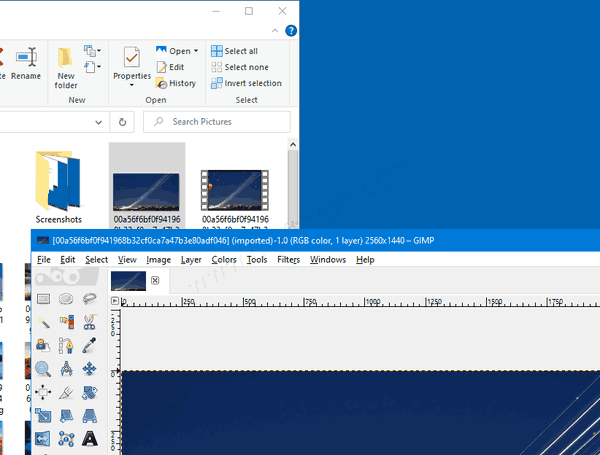 Note: To restore the Paint app, set the edit command in Registry back to
"%systemroot%\system32\mspaint.exe" "%1"