Today we will show you how to enable estimated installation time of updates in Windows 11. The latest operating system version made the update procedure faster and less annoying. This is because of reduced the size of the packages. Secondly, there is a function of providing information about the upcoming procedure for installing updates. In particular, this feature allows you to find out how long the update procedure will take before it starts.
While it sounds cool, this feature is currently hidden. But you can activate it right now using the ViveTool utility, that shares the idea of the famous mach2 tool. Both apps are designed to enable hidden and / or undocumented options in Windows.
Turn on Estimated Installation Time for Windows 11 Updates
Download the archive with the actual version of the utility from the GitHub project repository: https://github.com/thebookisclosed/ViVe/releases.
Now, unpack it to any location convenient for you.
Open a Terminal as administrator and use the cd command to navigate to the folder with the ViveTool executable file.
To enable the estimated installation time for updates, run the command:./ViVeTool addconfig 25704915 2.
The "Successfully set feature configuration" message in the console indicates that you have done the change.
Restart your computer for the settings to take effect
Finally, go to the Settings > Windows Update page, and check for updates. Download them if any available.
When Windows 11 finishes downloading the packages,click on the power management option in the Start menu.  Along with Shut down and restart the computer, you will have the options "Update and shutdown" and "Update and restart". Next to them you will see the Estimated time for installing the updates.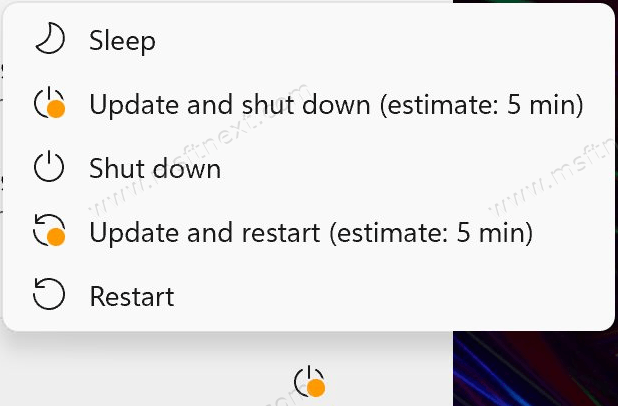 Keep in mind that the indicated estimated update time is approximate. Windows 11 calculates it based on the size of the update and the volume of operations performed. But, apparently, it does not take into account the technical characteristics of the computer – the speed of the hard disk and the power of the processor.
Microsoft will expand the roll-out of this new feature to more users in the coming weeks.