As optical discs become a thing of the past, most modern laptops and PCs are coming without a DVD drive. Even if the device have such a drive, the latter is rarely used. Today it is almost a rudiment, only taking up space in the device case. The same can be said about its icon in the "This PC" folder. Luckily, the icon can be hidden with ease.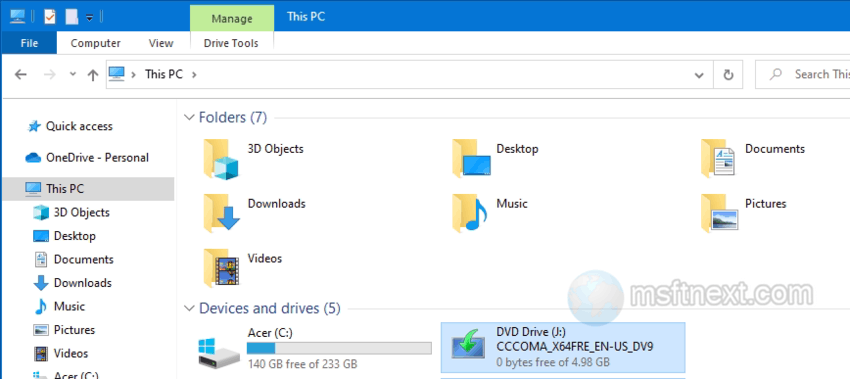 Windows has a policy that allows you to hide items in the This PC section, but it does not apply to the DVD drive .
The policy only supports hiding drives and partitions with the letters A , B , C and D, while the drive usually has the letter E . You can get around this annoying limitation by directly editing the registry key corresponding to the policy.
Hide DVD-CD drive in File Explorer
Open the registry editor with the regedit command.
Go to the HKEY_CURRENT_USER\Software\Microsoft\Windows\CurrentVersion\Policies\Explorer branch.
Now create a new DWORD value in the right column, with the name Nodrives and the value 16 in hexadecimal. The number 16 in this example corresponds to the letter E.
If the drive has a different letter, calculate the value according to the formula in which each subsequent drive has a number multiplied by 2 , and in which the starting point is 1. I.e.

A=1, B=2, C = 4, D = 8, E = 16

, and so on.
After editing the key, restart Explorer.
Alternatively, you can try to disable the cdrom service, again in the Registry. This will hide the letter in This PC.
Disable the cdrom service
Run regedit.exe to launch the Registry editor.
Go to the HKEY_LOCAL_MACHINE\SYSTEM\CurrentControlSet\Services\cdrom section.
Double-click the Start DWORD value and set it to 4.

Disable the cdrom service

The settings will take effect after

restarting the computer

.
Finally, the is an easier way to hide the drive icon with help of the Disk Management app.
Disk Management Method
Open the disk management snap-in, right-click on the DVD drive and select the option "Change drive letter and paths …" from the context menu.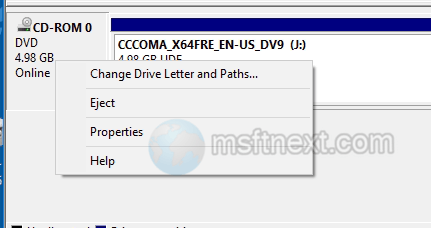 Click the "Remove" button in the dialog box that opens and confirm the action by clicking "Yes".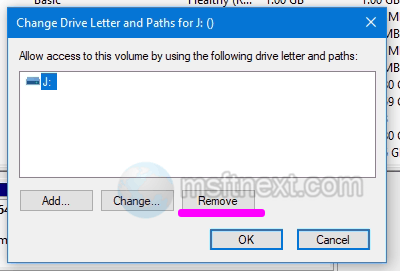 The DVD drive will be hidden immediately, but the CD-ROM cannot be hidden in this way, since it doesn't appear in disk management. But you can still use Registry Editor to hide it.
And the last method is Device Manager.
Disabling the drive in Device Manager
Right-click the Start icon, and select Device Manager in the menu.
Find your DVD or CD drive in the devices.
Right-click it and select Disable device from the menu.

Disable device

Confirm the operation. The drive will be disabled, with its letter disappearing from This PC.
The last method is the easiest method, as it doesn't involve any registry editing.