In Windows 10, you can make the operating system to search for certain file types or prevent the search feature from accessing them. This post explains the procedure in detail.
By default, Windows 10 indexes over 500 file types. All those file types appear in search results. Only encrypted files are not indexed by default and hidden from  search.
Search results in Windows are instant because they are powered by the Windows Search indexer. Windows 10 It runs as a service that indexes file names, contents and properties of file system items and stores them in a special database. There is a designated list of indexed locations in Windows, plus Libraries which are always indexed. So, instead of performing a real-time search through files on the file system, the search performs a query to the internal database, which allows showing results immediately. Windows Search is capable of indexing not just the file name but also the metadata/properties of files (in case of pictures, videos, documents etc) and their full contents (when the documents are not plain-text but in some binary format such as DOC or PDF).
Depending on how you use your PC, you may or may not want to see certain file types from appearing in Start/taskbar and File Explorer search results. The File Types tab of Advanced Indexing Options can be used to include or exclude certain file types from search and their contents and properties.
Hide a File Type from Search Results in Windows 10
Type 'indexing options' in the search box on the taskbar. Alternatively, you could open Control Panel and type 'indexing options'  in its search box in the top right corner.
Press the Enter key to open 'Indexing Options'.
Click on the 'Advanced' button to open 'Advanced Options'.
Go to the File Types tab.
Select the file extension you would like to remove from the search index and uncheck the box next to it, and then click OK button.In the example above, JPE, JPG, and JPEG file extensions are excluded from the search index.
If you see the following dialog, simply click OK button to continue: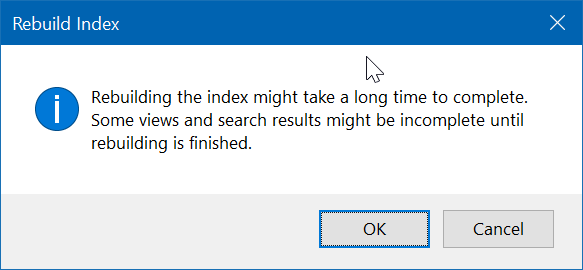 You can restore the hidden file type in the search index at any moment by turning on the same option in advanced options.
Image credit: Pixabay.com