You can open a web shortcut in any browser rather than default by adding open with or the list of installed browsers to the web shortcut right-click menu. If you have enough space on your desktop, instead of bookmarking a web page in your browser, you can create a shortcut to it by dragging the URL from the address bar onto the desktop. This shortcut will have the browser icon that you have assigned as your default browser, and will open in the default browser. Let's assume that you have multiple browsers installed on your computer.  Now, you need to open a particular shortcut to the web page with an alternative browser. It couldn't be easier.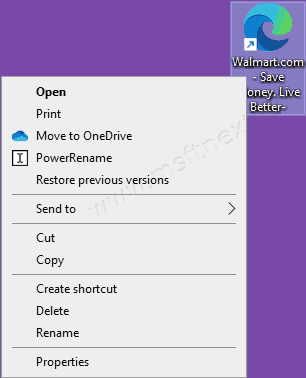 Open Web Shortcut in Any Browser Rather Than Default
Open the browser of your choice.
Drag and drop the webpage shortcut onto the open browser window.
Alternatively, you can drag it into the browser's desktop icon, e.g. on Firefox. This will start the browser and open the web shortcut target URL.
If there are no browser shortcuts on your desktop and you have no intention to create them, you can use a little trick and directly add the browsers to the context menu of the web shortcut. The context menu of a regular web shortcut has very small number of options and it does not include the "Open with" item. So you can expand it with sub-items for installed browsers.
Add installed browsers to the web shortcut right-click menu
Download this ZIP archive with tweaks, and  unpack the contents.
In the "Add Open with to web shortcut" folder, there is a tweak that adds the "Open with" option to the context menu of a web shortcut.
In the "Direct browser selection" directory, you will find a tweak that adds the "Open" submenu with a list of all installed browsers to the context menu of a web shortcut.
The undo files are included for both cases.
Note that the 'Open with' menu allows you to select not only any browser installed on your PC, but also any other application.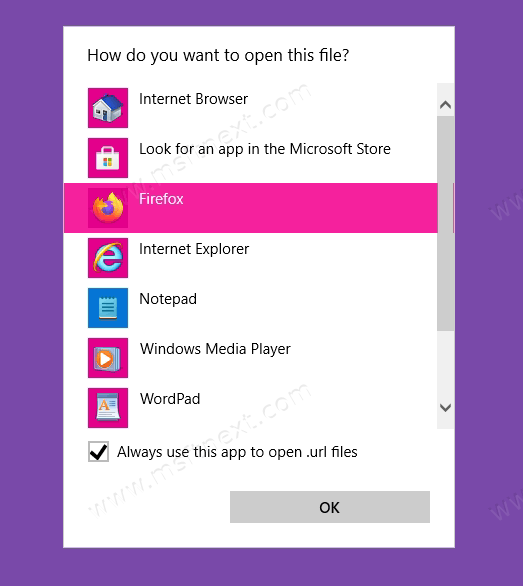 And one more little note. We recommend using the second method, since the first does not always work correctly. Instead of URL of the web page in the selected browser, the contents of the shortcut may appear listed in the browser. Well, give it a try. There is no harm, as the tweaks for undoing changes are included.