How to Enable Eco Mode for a Process in Windows 10. This fall, Microsoft will unveil the next major Windows 10 21H2 update, codenamed Sun Valley. In addition to the traditional fixes and general improvements, the developers promise to introduce a number of new features and UI innovations. One of them is the Eco Mode in Task Manager, the purpose of which is to limit the resource consumption of processes to improve performance.
Eco Mode in Windows 10 serves roughly the same purpose as Sleep Mode in mobile devices. But if in gadgets it works automatically, then in Windows 10 it is controlled manually.
Eco mode forcibly limits the consumption of resources for specific processes, so that the released resources can be used for important tasks, i.e. other running apps and the OS.
You can test the new feature right now by installing Windows 10 Insider Build 21364.
Enable Eco Mode for a Process in Windows 10
Open Task Manager.
Click the More details link in the bottom right corner if you have it running in compact mode.
On the Processes tab, right-click on the process and select Eco mode in the context menu.
Alternatively, you can go to the Details tab, where all processes are listed without specifying their parents.
Confirm your intention in the next dialog to activate the eco mode.
Well, that's not so complicated, right? Note that Eco Mode can only be enabled for a single process. If you try to apply it to a process group, the option in the menu will be grayed out.
How do you find if a process is running in Eco Mode?
It is very simple. Opposite to the app name there will be a corresponding text label.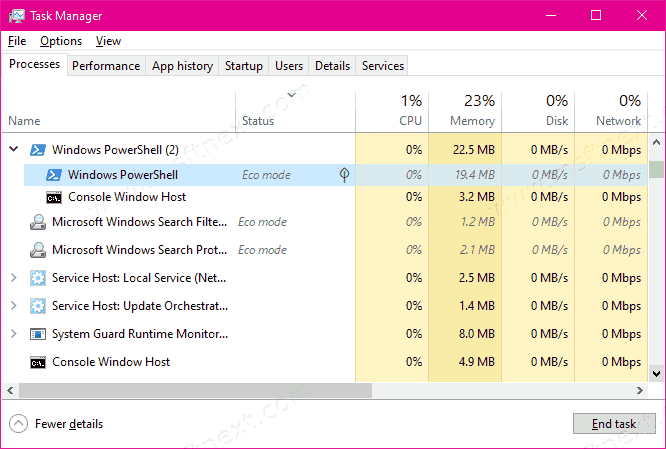 It is only unclear out how the eco-mode is fundamentally different from the "Set priority" function already available in the Task Manager.
If the new function is positioned as a tool for saving battery power, then its usefulness is highly questionable, since the main consumer of energy resources is not processes, but the screen. If Eco Mode is about limiting the consumption of CPU and RAM resources by the process, will the released resources be enough to notice the performance improvements in any way? We will probably find the answers in Windows 10 "Sun Valley", version 21H2.