You can turn off tab auto reload in Google Chrome using a built-in tool or extensions from the Google Web Store. In recent versions of Google Chrome, the browser suspends (pause) and unloads inactive tabs by default. This results in the tab reloading when you return to the tab after some time. You can disable this tab reloading behavior in several ways.
This tutorial will show you how to turn off auto tab reload in Google Chrome when you re-open a tab using both built-in browser options and extensions specifically designed for this purpose.
The first option may not be the most convenient, but it does not require you to install any third-party extension or software. It allows you to disable automatic reload of specific tabs that were inactive. This can be done using the following steps.
Turn off tab auto reload in Google Chrome
Type chrome://discards into the address bar of Google Chrome, and press Enter. Also, you can bookmark this address for your convenience.
A page with a list of currently open tabs will open.
In the "Auto discardable" column, click on "Toggle" to disable the automatic unloading for tabs that should always be left loaded and do not reload when you switch to them.
Close the Discards tab.
Done. However, as noted above, this method may not be the most convenient. If you close the tab, and then open the same site in a new tab, Chrome won't remember you choice, as it was done to the specific tab and not the site. So you will have to repeat all the described steps again.
A more suitable method for disabling auto tab reload and refreshing sites in Chrome are extensions.
Extensions to disable automatic reload of inactive Chrome tabs
The extensions reviewed below are not all of the available extension options in the Chrome store for disabling tab reload. But these are the most popular and reputable at the time of this writing.
The simplest of them which, just disabling automatic pause and reloading of tabs immediately after activating the extension – Disable Automatic Tab Discarding.
Disable Automatic Tab Discarding
Disable Automatic Tab Discarding is a simple extension that disables the tab reload in Chrome. It doesn't include plenty of settings. It simply puts its button to the browser toolbar. When it is active, Chrome doesn't unload inactive tabs, all of them. And that's all.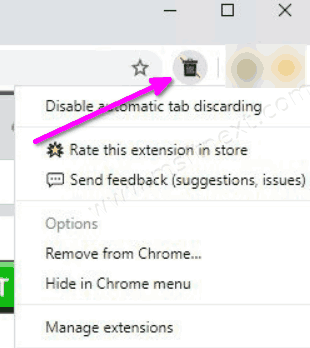 Another extension is The Great Suspender Original.
The Great Suspender Original extension
With The Great Suspender Original extension, you will be able.
Suspend all tabs or Resume all tabs.
In the extension setting, you can configure automatic behavior. Here you can specify the time after which the tabs are unloaded, prohibit unloading pinned tabs, tabs containing unsaved user data, playing audio, and active tabs in separate Chrome windows.
Additionally, you can disable hibernation for all tabs when your network connection that was offline is restored, or manually specify sites that should be excluded from the tab unload feature.
The extension also has advanced features such as controlling the state of open tabs with keyboard shortcuts.
Another topic you might be interested in is Disable Reading List in Google Chrome.