Microsoft today released the first preview of the revived Windows PowerToys apps. It is a new branch of the good old PowerToys product which is optimized for Windows 10.
Windows PowerToys were created years ago for Windows 95, and were including a handful set of tools. You may have heard about TweakUI or QuickRes, which were really great at their work.
Today Microsoft releases the first preview and source code of modern PowerToys. It includes the Settings app that allows managing all 'power toys' from one place. Also, the initial preview release of PowerToys comes with the two tools, FancyZones and Windows key shortcut guide.
Get PowerToys
To install PowerToys, download the installer here. The main PowerToys service runs when Windows starts and a user logs in. When you launch PowerToys after installation, its  icon appears in the system tray. Selecting the icon launches the PowerToys settings UI. The settings UI lets you enable and disable individual utilities. For example, if you only want to use FancyZones, you can disable Shortcut Guide. The Settings app provides settings for each utility along with a link to the help doc.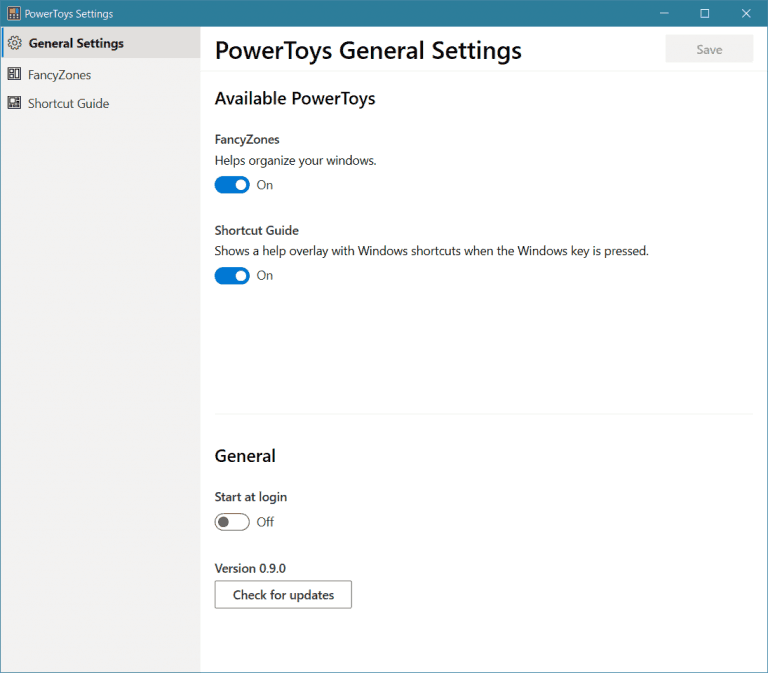 Note: Some PowerToys functionality may request for elevation. Elevation is required to interact with and manipulate windows from processes that have a higher set of rights than the current user.
FancyZones
FancyZones is a window management tool that helps you make it easy to arrange and snap windows into various desktop zones, and save and quickly restore the window layout you have created. You can use five pre-configured templates, or  create custom window layouts.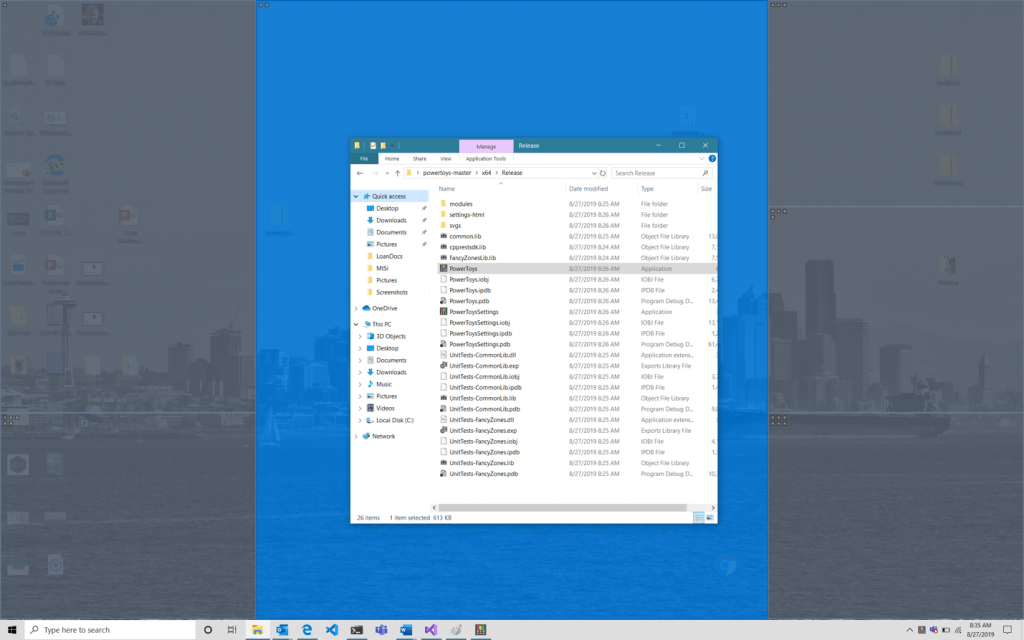 There are two ways to create custom zone layouts, window layout and table layout. These can also be thought of as additive and subtractive models. The additive window layout model starts with a blank layout and supports adding zones that can be dragged and resized, similar to windows.
Also, this tools allows you to override the default Windows-Arrow shortcut keys to place and resize windows automatically on the system. When this feature is enabled, you will be able to move your open windows between 'fancy' zones.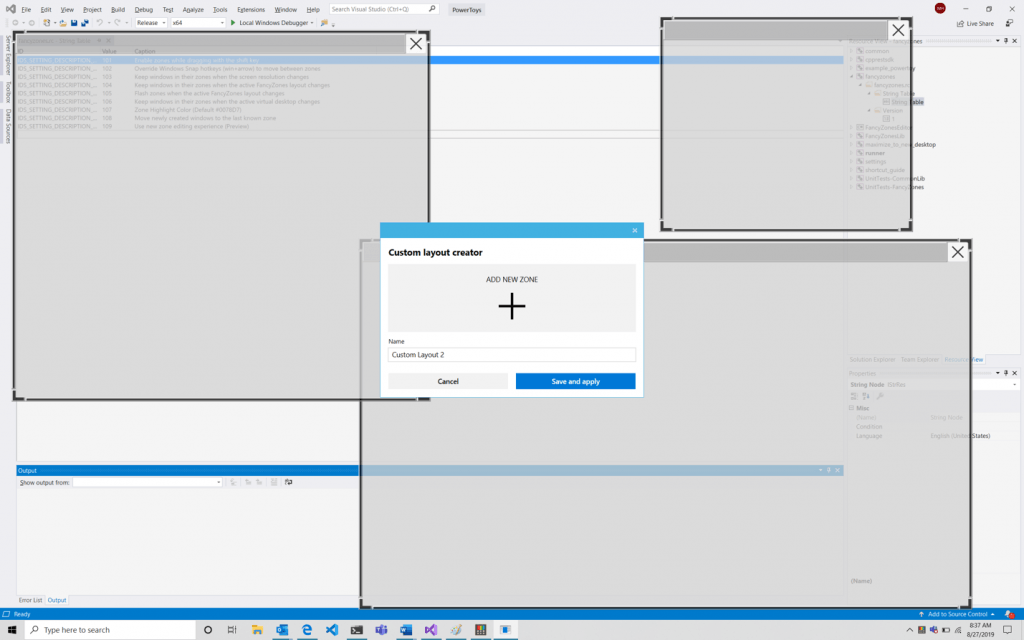 Windows key shortcut guide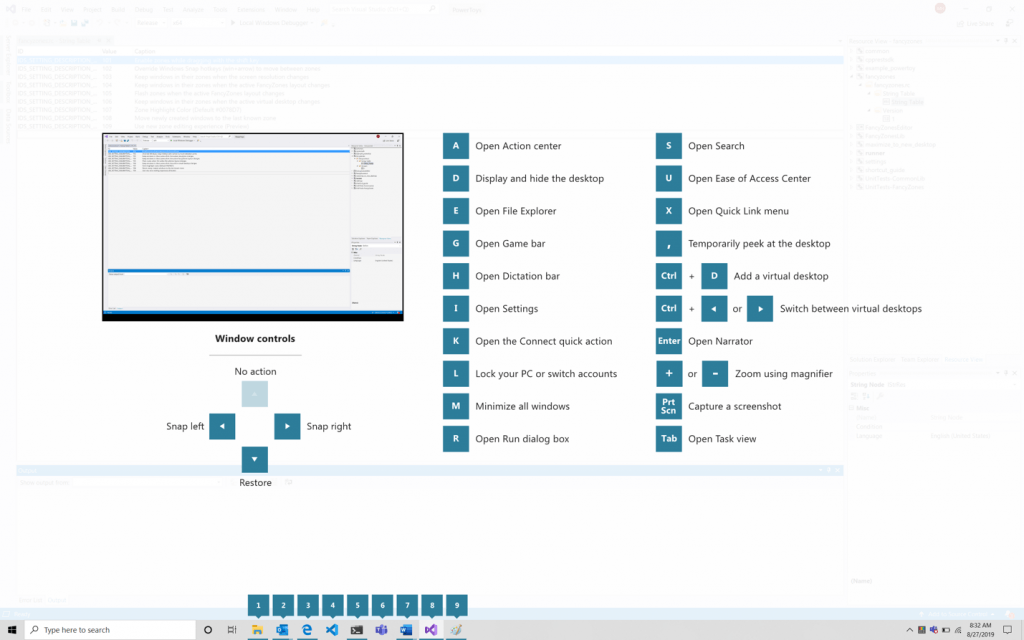 The Windows key shortcut guide is a full screen overlay utility that provides a dynamic set of Windows key shortcuts that are applicable for the given desktop and currently active window. The tip appears on the screen if you hold down the Windows-key for 900 milliseconds. You can change the time to another value in the settings. This handy tool is good for learning Windows keyboard shortcut, and also allows to quickly recall a hotkey in your memory if you have forgot one.
Microsoft is about to release more tools in the near future. Four of them are highlighted on the project page currently:
Batch file renamer
Animated gif screen recorder
Process termination tool.
Maximize to new desktop widget.