You can enable Chat Taskbar Button  in Windows 11. There is a great chance for it is missing for you, as the feature is under a gradual roll-out.
A few days ago of Microsoft began public testing of a new application "Chat" in the Windows 11. The new app is based on Microsoft Teams. However, the feature is available only to a limited number of insiders. That means that the corresponding icon on the taskbar may not appear.
If you want to be one of the first to test the Chat application, you can manually enable it using the following instructions.
Enable Chat Taskbar Button in Windows 11
Download Microsoft Teams based on WebView2 from this link and install it on your computer.
Now download the ViVeTool from GitHub.
Unpack the downloaded archive to any location on your computer (for example, you can create a ViVeTool folder in the root of the C drive and place the files there).
Open a command prompt as administrator (for example, by typing CMD in the search box and selecting the appropriate item).
In the command window, go to the folder with ViVeTool using the command cd / d <path to folder> and then press Enter. For example: cd /d "C:\ViVeTool".
Type the following command and press ↵ Enter :ViveTool.exe addconfig 31371065 2.
Make sure that the message "Successfully set feature configuration" appears on the command line.
Now, restart your computer with Windows 11. After restart, it will enable the Chat taskbar button in Windows 11.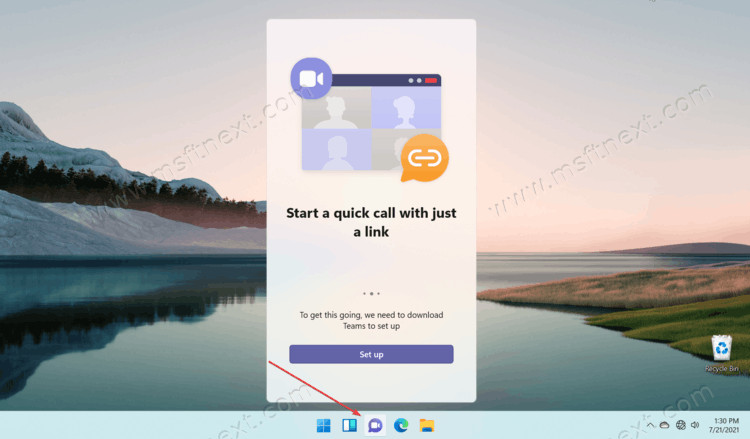 Install the Chat app
You may be curious why you need to install the Teams app manually. In theory, this should happen automatically when the you enable the button. But currently something is clearly not working as intended.
So, to install the chat app, click to this link and download the MSIX file.
After you download the file, double-click it and install like a regular app on Windows 11. You now have the Chat app installed.
Also, we would like to point that Microsoft does not recommend you to enable hidden secret features using ViveTool. But the past experience showed that it is completely fine to force-enable options Microsoft rolls out gradually. Of course, if you have reasons to avoid ViveTool, you can just simply wait for your Windows 11 setup to get the feature.