In this article, we will see the easy steps to backup and restore Sticky Notes in Windows 10 in order to transfer them it to another Windows 10 PC or restore them after reinstall.
Starting with Windows 10 version 1607 "Anniversary Update" the classic version of Sticky Notes was replaced with a Universal(UWP) app with close integration with Cortana and Search.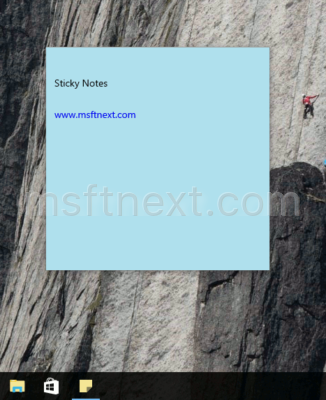 The new application stores your sticky notes data in a database file named plum.sqlite. When you need to backup it, you have to create a copy of the plum.sqlite file.
How to Backup Sticky Notes in Windows 10
Close the Sticky Notes app.
Copy and paste the following path in the File Explorer's address bar:

%LocalAppData%\Packages\Microsoft.MicrosoftStickyNotes_8wekyb3d8bbwe\LocalState

Press Enter to open the target folder.
Copy and paste the plum.sqlite file to another location. It can a folder on your hard drive or a folder on an external backup device.
If you re-installed Windows 10, you will be able to retrieve your sticky notes quickly using the backup file you created. You can put this file to its original folder location or transfer it to a new user profile.