In File Explorer, the Details pane displays the EXIF information, such as Camera model, Dimensions, etc., for files. Nevertheless, on certain systems, the metadata may appear to be completely empty.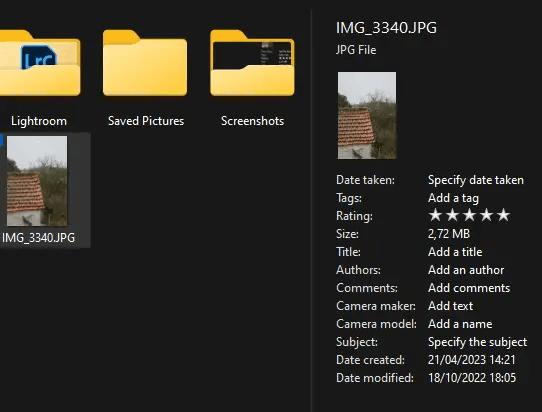 On some computers, renaming a JPG file to JPEG, JPE, or JFIF can restore the EXIF data. Additionally, enabling the metadata columns in the Details view of File Explorer can also achieve the same result. This issue may occur despite the fact that JPG files are associated with the default Photos app.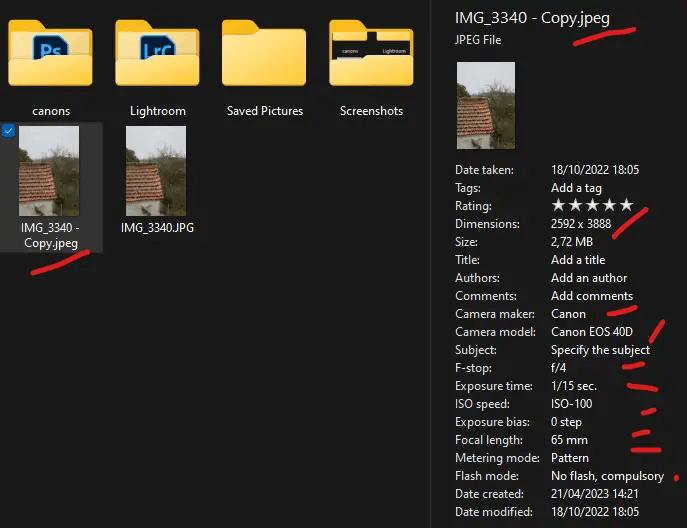 EXIF stands for Exchangeable Image File Format. This is a standard format used to store metadata (i.e. additional information) about images taken with digital cameras and other imaging devices. Metadata can include information such as camera model, shutter speed, aperture, ISO, date and time taken, GPS coordinates, and more. This information is embedded in the image file and can be accessed and viewed by various software applications, allowing users to better organize, search, and edit their image files.
It is very convenient to view EXIF in File Explorer, and is very annoying when it doesn't work. To fix File Explorer and make it show the EXIF data for JPG files, do the following.
Fix EXIF not displayed for JPG in File Explorer
Right-click the Windows logo button in the taskbar, and select Terminal(Admin) to open an elevated command prompt.
In Windows Terminal, select Command Prompt (Ctrl + ⇧ Shift + 2 ).
Now run the following command: regsvr32.exe photometadatahandler.dll. It will tell you "DllRegisterServer in photometadatahandler.dll succeeded."
Sign out and sign in, or restart Windows.
This should fix the issue for you.
Now you can view the EXIF metadata of an image file by right-clicking on the file, selecting Properties, and then clicking on the Details tab. The metadata, including EXIF information, will be displayed here.
In addition, you can  read the EXIF metadata from an image file using a variety of software and tools. Besides the File Explorer, free Windows apps like XnView and IrfanView show the EXIF data. There are several online tools available that allow you to view the EXIF metadata of an image file without needing to install any software. Examples include exifdata.com and exifinfo.org. Simply upload the image file to the online tool, and the metadata, including EXIF information, will be displayed.
Source: winhelponline