In a corporate environment users often see the message "Windows needs you current credentials" immediately after logon. The presence of such  messages, especially if they are generated by the Windows Notification Center, raises concerns about system errors. Especially if the notification has a warning sign.
Computers on the enterprise network often used by several users, so they have multiple accounts and use a PIN to log in. The cause of this error can be incorrect login settings. It can also be caused by a bug that prevents Windows from correctly identifying the user signing into the account.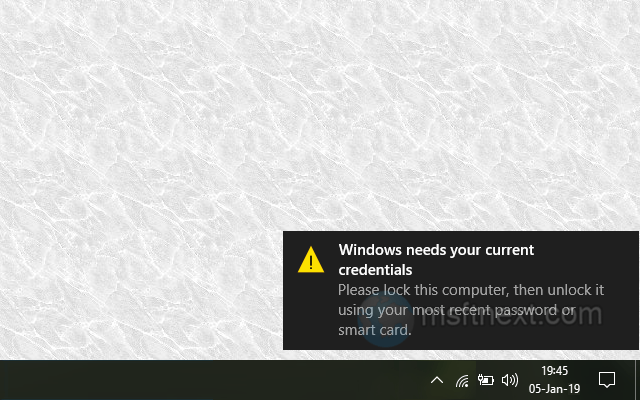 Fortunately, the problem does not block the user's work. At least you won't have to restore the OS or use recovery tools like bootable USB.
Fix the Windows needs you current credentials error
To get rid of this error message, you can try the following two solutions. First of all, try to switch to a Microsoft Account. Then, check out the Group Policy configuration. The latter can be not configured properly.
Switching to a Microsoft account
If you're using a local account, switch to a Microsoft account and confirm sign-i. You may need to enter the code sent to the specified work mailbox.
If the error occurred while using a Microsoft account, sign out by switching to a local account, and then sign in again.
As a last resort, you can remove the problematic account from the netplwiz snap-in and re-create it. Remember to back up your personal data.
Check logon policy settings
The next thing to do is to check the status of the "Always wait for the network at startup and logon" logon policy, which is responsible for group policy synchronization.
Do the following.
Open the Local Group Policy editor with the gpedit.msc command.
Go to the Computer Configuration -> Administrative Templates -> System -> Logon folder.
Find the Always wait for the network at computer startup and logon policy on the right and disable it if it is active.
Restart Windows.
What else to check
If the methods described above are not effective in your case, take the following steps as additional measures.
Scan Windows for corrupted system files.
Install the latest updates.
Create a new account and transfer your personal data to it.
Check the system with a virus scanner.
Roll back to a previous restore point.