Sometimes you need to copy URLs from all tabs in Google Chrome. It may be necessary to quickly share links to all open web pages. But the problem is that Chrome has not option to do this directly and quickly. The browser has no option to batch copy website addresses in open tabs. However, there is a very simple workaround.
To copy the URLs of all open tabs, you first have to bookmark them.
Сopy URLs from all tabs in Chrome
Open Chrome and open all the pages you need.
Click the menu button and select Bookmarks > Bookmark all tabs…; or press Ctrl + Shift + D .
This will open a new dialog to create a new folder for these bookmarks.
Name the folder as you like and click Save.
After saving the bookmarks, open the Bookmark Manager. Use the main menu or the Ctrl + ⇧ Shift + O keys.
Go to the folder you created for the saved bookmarks and select all entries using the  Ctrl + A shortcut.
Now, copy their URLs by pressing Ctrl + C and paste into a text file or to some app using the Ctrl + V hotkeys.
That's all, you can delete the unnecessary bookmark folder. Right-click in the bookmark manager and select Delete from the context menu.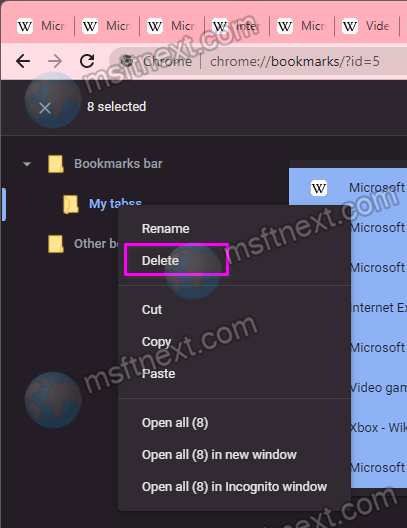 Please note that only URLs are copied, not page titles. If you want to copy the name of the bookmarks, you may need to use a third party extension, such as Copy All Urls.
The Copy All Urls Extension
The extension has been created by Vincent Paré. It is far more advanced than the bookmarks methods we reviewed earlier in our tutorial.
It can copy open page addresses to 4 formats, text, HTML, JSON or "custom".  However, it includes some Google Analytics code, and appears to be a bit abandoned. These are the reasons most users try to avoid extensions.
If you are going to give it as try, grab it here:
https://chrome.google.com/webstore/detail/copy-all-urls/djdmadneanknadilpjiknlnanaolmbfk
Maybe a better alternative is the Tab-Snap extension.
The Tab-Snap extension
The Tab-Snap not only builds the list of the open tabs for a Chrome window, but can also load URLs from a text file.
You  can copy and paste the URLs from the extension's list, then save it to a file, share via email, and so on. You can use it to share the tab URLs between you computers by opening them with help of the extension.
It doesn't include extra tracking options or scripts, so it is a preferable solution in our opinion. You can get it from here:
https://chrome.google.com/webstore/detail/tab-snap/ajjloplcjllkammemhenacfjcccockde