How to Scan for Leaked Passwords in Microsoft Edge.
Microsoft Edge has a password security feature that reminds of the Password Monitor in Mozilla Firefox. It can check if your saved passwords are weak or already compromised. Additionally, you can now manually scan them.
The Password Monitor in Edge is similar to the same Firefox feature. However, latter is part of the Firefox Lockwise password manager, which is also available as a standalone app. It was first enabled in Firefox 67 as an extension. However in Edge, the feature is a bit different
Password Monitor implementation in Edge
In Edge, password Monitor checks your passwords against an online database of compromised accounts. If any of passwords matches a vulnerable account in that database, Edge will show you a notification. For some sites which support the "change-password" feature, you can also directly change passwords.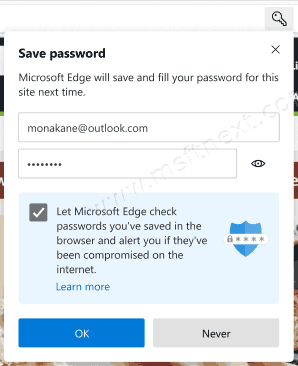 With Password Monitor Edge is able to proactively check the passwords you've saved in the browser against a large database of known breached credentials that are stored in the cloud. Found vulnerable passwords can be seen in Settings > Profiles > Passwords > Fix leaked passwords. So passwords listed there are no longer safe to use and need to be changed immediately.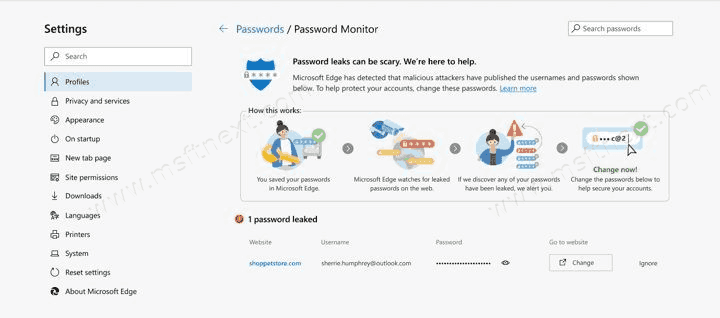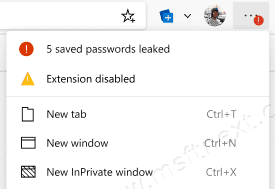 This tutorial explains how to scan for leaked passwords in Microsoft Edge. You need to follow these instructions:
To Scan for Leaked Passwords in Microsoft Edge
Open Microsoft Edge.
Click on the Settings button (Alt + F) and select Settings from the menu.
Select Profiles In the left pane. Click on Passwords on the right.
Click on the right arrow icon > below Show alerts. It is a tiny link.
On the next screen, click on the Scan now button and wait for Edge to finish the leaked password scan.
The scan result will display whether you have leaked passwords among your saved passwords.
You must change all your leaked password found with these steps as soon as possible.
The manual scan feature is available in Edge starting in build 89.0.729.0. It was first introduced in Canary builds.
You can also enable the "Ask before closing all tabs" confirmation in Microsoft Edge.