Here's how you can show the Firefox Bookmarks toolbar on New Tab Page only.
The Firefox browser allows you to only show the Bookmarks toolbar on the New Tab page only. This useful option is available in Firefox 84, but it is hidden.
By default, Firefox shows the Bookmarks toolbar everywhere in the user interface. It appears visible on every tab, including the open page tab, and the new tab page. You can enable or disable it if you right-click on the titlebar and toggle the check mark for the Bookmarks Toolbar option. There is also a hotkey for that, Ctrl+Shift+B.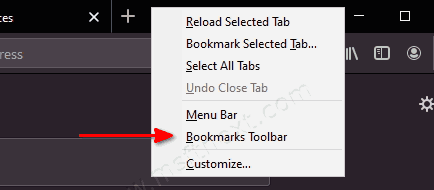 Google Chrome and other browsers are able to only display the bookmarks bar on the new tab page. Firefox now allows you to have the same.
Example: Firefox shows the Bookmarks only on the New Tab page.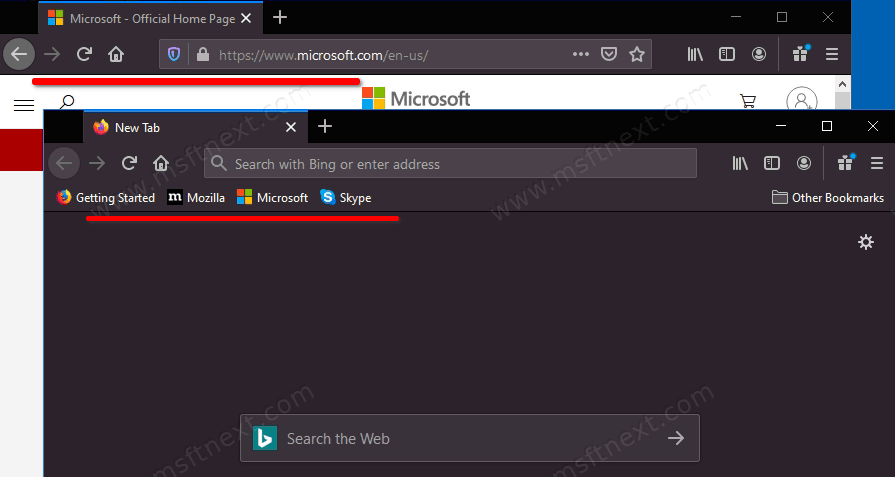 This tutorial will explain you how to only show the Bookmarks toolbar on New Tab page in Firefox.
Show Firefox Bookmarks toolbar only on New Tab Page Open Firefox.
Type about:config in the address bar, and hit the Enter key.
Click on Accept the Risk and Continue.
In the search box, type browser.toolbars.bookmarks.2h2020.
Double-click on the browser.toolbars.bookmarks.2h2020 value to set it to true.
Restart the Firefox browser.
Right-click on the titlebar and select Only on New Tab for the Bookmarks toolbar option.
The browser.toolbars.bookmarks.2h2020 enables a cascading option menu for the Bookmarks toolbar entry in the tab right-click menu.
It additionally modifies the main menu of Firefox. I.e. you can press the Alt key to display the Firefox menu, and go to View > Toolbars > Bookmarks Toolbar. Similarly to the above, you will be able to choose between the Always, Never or Only on New Tab options.

💡Tip: See why Firefox is making connections to detectportal.firefox.com on start
Directly change how to show the Bookmarks toolbar
Also, you can directly change the appearance of the Bookmarks toolbar by editing the browser.toolbars.bookmarks.visibility value in the about:config tool.

You can set it to one of the following strings.
always – always show the bookmarks toolbar.
never  – disable the toolbar.
newtab – only show the bookmarks toolbar on the new tab page.
So, if you have installed Firefox 84 or above, you can make the bookmarks appear only on the new tab page.