The activation status on different Windows 10 or 11 devices may have different wording. In the "Activation" section of the Settings app, the activation status wording may be  "Windows system activated with a digital license" or "linked to your Microsoft account".
Since most ordinary users are used to taking Microsoft's word for it, few people think about the definitions and formulations that developers use.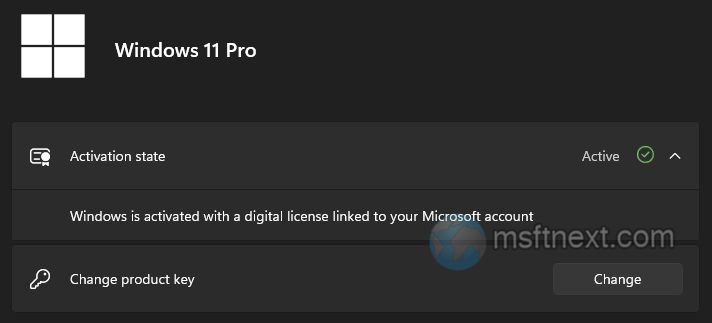 Take, for example, the same assurance about linking a digital license to a user account. We believe you will be surprised to learn that the license you purchased is tied not to an account at all, but to a computer configuration.
A number of facts indicate that this is indeed the case. There's no mention of a digital license on the page with a list of services and subscriptions account.microsoft.com/services. Also, you will find that all computers from which you used that Microsoft account are listed there.
In fact, Microsoft account is not needed to activate Windows at all. OEM devices come with Windows clean installs activated. In such cases, activation can be performed with a local account.
And one more interesting moment. The Microsoft website mentions the importance of linking a license to an account. But if you carefully and thoughtfully read the recommendation, you will find they say about linking it from a device, i.e. your computer. It also points out that binding is necessary to reactivate Windows using the activation troubleshooter in the event of a significant hardware change.
Obviously, the Microsoft account is not tied to the license itself as something separate, but to the hardware that received this license. This approach simplifies the activation exclusion procedure for a significant computer upgrade.
So the information in the Settings app is not correct. Your hardware plays the key role for activation, even if it is tied to your Microsoft account.