The Cha Fan connector port is a valuable component on a motherboard, specifically designed for connecting fans. Despite its name, it is not a redundant feature and belongs to the same category as other essential fan ports such as CPU fan, Sys fan, Pump Fan, and CPU Opt.
These ports are responsible for:
CPU Fan – connection of a cooler that cools the processor. This port is available on all models of motherboards, and its use is mandatory for successful completion of the device initialization procedure when the computer is turned on.
Sys Fan – connect additional coolers for the chipset, hard drive and other key system devices. Their number can reach five units, but they may not exist at all.
Pump Fan and CPU Opt – connection of fans of modified cooling systems, in this example, water ones. Not available on all motherboard models.
But let's back to our Cha Fan .
What is the Cha Fan connector?
The fact that the port is used to connect a fan is already clear, but what kind of cooler is this and what does the strange name "Cha" mean?
Cha stands for the "Chassis" term, that is, part of the computer case. So, the port is used to connect fans that mount on the back side of chassis and cool the air in the whole case. That cooler is not intended to cool down a specific hardware unit.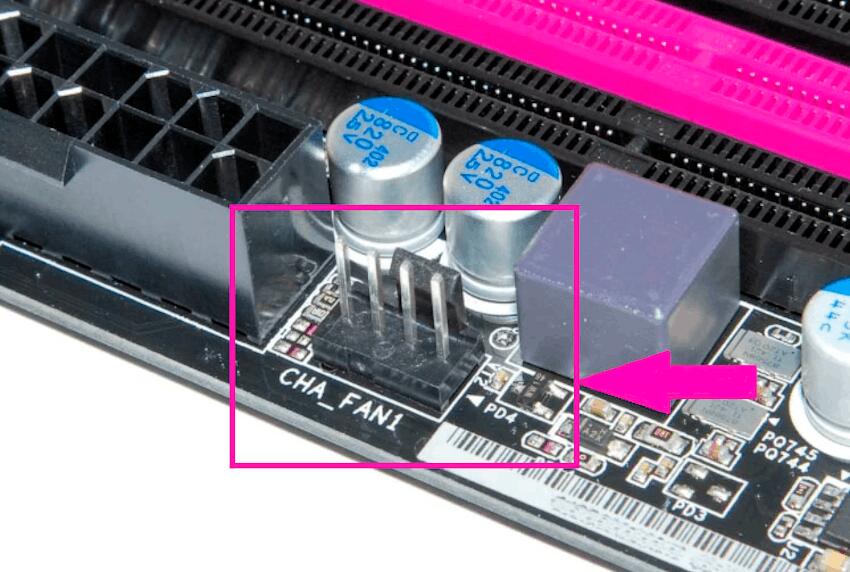 The Cha Fan ports and Sys Fan connectors have similar pin-outs and can be used interchangeably to connect fans that provide individual device cooling. The main difference is in their placement on the motherboard. While Cha Fan ports typically located closer to the edges, Sys Fan ports are usually found in the central area.
Both Cha Fan and Sys Fan ports can be either 3-pin or 4-pin. Coolers connected to 3-pin ports will operate at a constant speed, while those connected to 4-pin connectors can adjust their speed automatically based on system temperature or through manual settings in the BIOS.
Additionally, it's worth noting that Cha Fan coolers have the ability to rotate in both directions.
Other optional fan connectors
The ports listed above are not the only sockets you can find on your motherboard. There are also fan connectors designed for specific tasks. To mention a few:
Pwr Fan – this connector is for connection the power supply cooler. Relatively rare, it may be compatible with Cha Fan .
H-AMP Fan is a high current port used to connect coolers with high current consumption.
AIO Pump – This port is used to connect the water cooling pump.
M.2 Fan is a special port for connecting M.2 standard hard drive cooling devices .
ASST Fan – for connecting additional coolers, found in some gaming motherboards.
EXT Fan is an "extended" port that has five pins and is used to connect a special board that allows you to control the operation of a group of fans.