This tutorial will show you how to open Advanced Startup Options in Windows 11, which allows you to access WinRE. Windows Recovery Environment (WinRE) is a mini operating system that includes a basic set of drivers and tools for troubleshooting and recovery.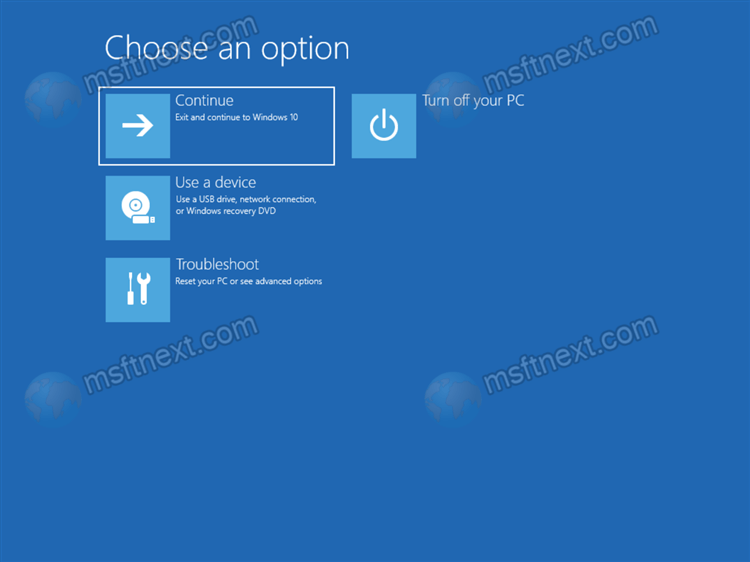 Advanced Startup Options in Windows 11 include the following options.
Startup recovery with troubleshooting.
A number of diagnostic apps.
A boot manager to start the device from an external disk or device.
An option to restart to UEFI firmware
Recovery options to restore the OS from a system image
Change the operating system to start if multiple operating systems are installed.
Advanced Startup Options doesn't require you to sign in with your user name and password.
Here's how to start your Windows 11 device to the advanced startup options.
Open Advanced Startup Options in Windows 11
Open Windows Settings app with ⊞ Win  + I.
Click "System" on the left.
On the right, click on "Recovery."
On the next page, see the "Recovery options" section. Сlick on "Restart now" button next to the "Advanced startup" item.
Besides the above method, you can boot to Advanced Startup options directly from the Start menu. It is much faster.
Boot to Advanced Startup from Start
Step 1: Open the Start menu with the ⊞ Win  key or by clicking on the Start button, and click on the "Power" icon.
Step 2: Press and hold the Shift key on the keyboard, and click on the Restart entry.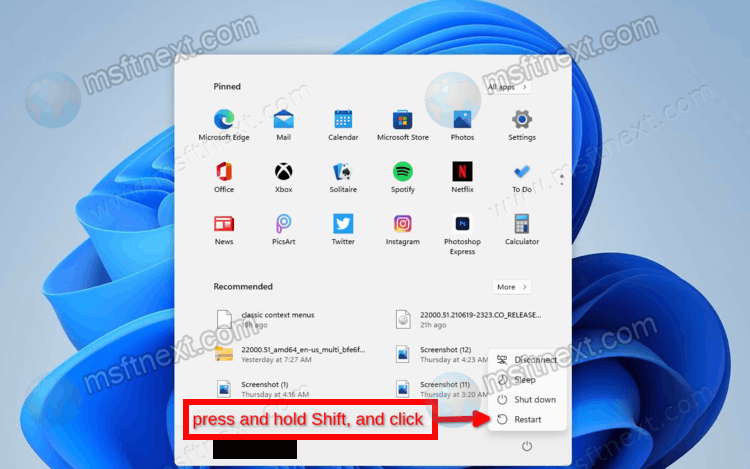 Windows 11 will now restart directly to Advanced Startup.
Similar to the Start menu, the ⊞ Win +X menu includes the shut down and restart commands. Press ⊞ Win  + X and select Shut down or sign out.
Then, press and hold Shift and click on "Restart".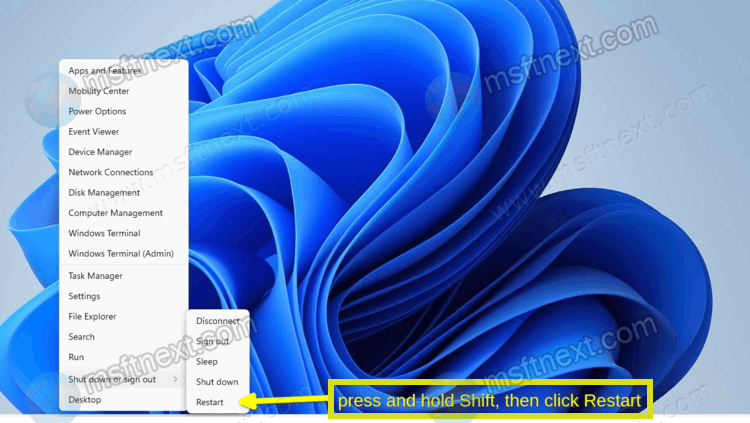 Ctrl + Alt + Del screen and Sign-in screen
Yet another option to quickly go to Windows 11 to Advanced Startup is the Ctrl + Alt + Del security screen of Windows 11. Press Ctrl + Alt + Del, click on the Power icon. Once the power options menu appears, press and hold the Shift key, and click Restart.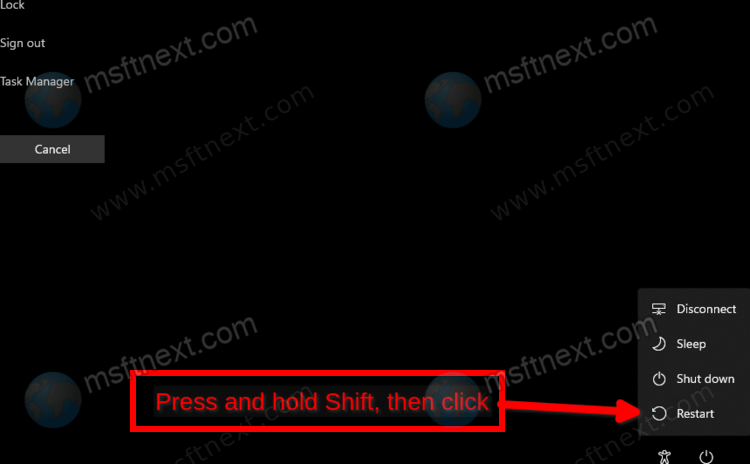 You can also do the same from the sign-in screen, as it includes the same option.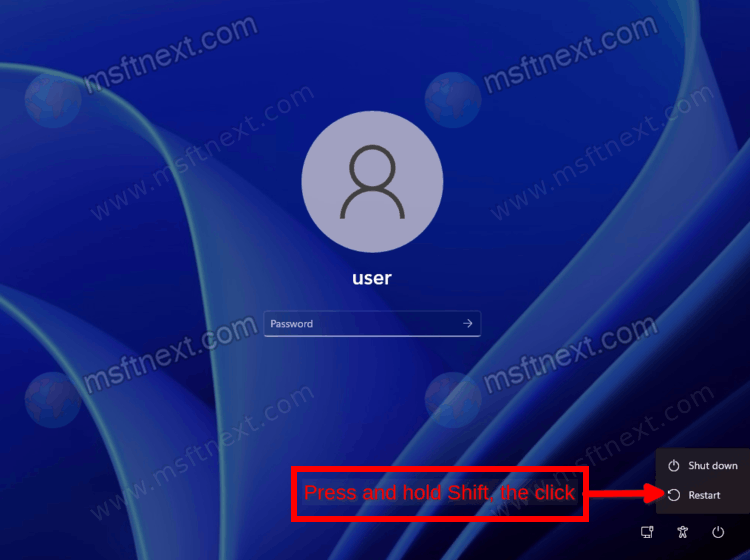 Using the "shutdown" command
Open PowerShell, Command Prompt, or Windows Terminal. You can also press ⊞ Win  + R to open the "Run" dialog.
Type the command shutdown /r /o /f /t 0, and then press ↵ Enter .
Windows 11 will restart to Advanced Startup.
Finally, you can use the installation media to launch the Advanced Startup options (WinRE). This can be useful if your device doesn't start.
Open Advanced Startup from an external drive
Plug your external bootable USB drive.
Restart your computer and start it from that drive.
Select your language, time and currency format, and keyboard options,and click Next.
Click on Repair your computer.