You can now enable the long awaited feature of dragging and dropping files to apps on the taskbar in Windows 11. While dragging a file on the app icon in the taskbar was a matter of course in Windows 10, Windows 11 had serious problems with it. In the new version of the OS, the developers have disabled this function.
The ability to open files by dragging and dropping them onto the icons of running programs on the taskbar has also become unavailable. It was possible to restore the disabled drag-and-drop function in insider assemblies of the system using a simple registry tweak, but it no longer works.
To enable dragging and dropping files to running applications, in the stable version of Windows 11 you need the help of a third-party tool – Windows11DragAndDropToTaskbarFix.
Enable dragging and dropping files to taskbar app icons
Download Windows11DragAndDropToTaskbarFix from GitHub. It is an open source app.
Run the executable file Windows11DragAndDropToTaskbarFix.
If you receive a message about the absence of the VCRUNTIME140_1.DLL library, download from the official page: docs.microsoft.com/cpp/windows/latest-supported-vc-redist?view=msvc-160. Download the Microsoft Visual C ++ 2015-2019 64-bit component.
Now try to drag your files to the taskbar app buttons. It will open them in the target app.
While weighing only 100 kilobytes, its sole purpose of restoring the drag-and-drop functionality to the icons of apps on the taskbar. The utility does not have a graphical interface. So when you start the tool, a console window will open. It will close itself after a short time.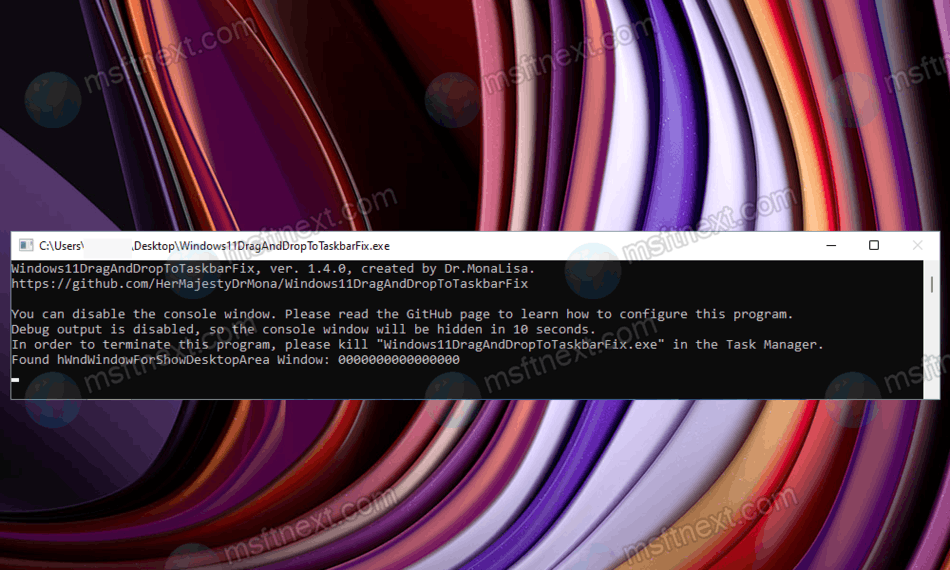 However, that on multi-monitor systems, the app may not work correctly. Also, when you drag files to the taskbar you will still see a red icon indicating that the action is prohibited.
You do not need to pay attention to it. Its appearance does not affect the functionality of the utility in any way.
If you need to terminate the utility, you can do this through the Task Manager by forcibly closing its process.