Restore Syntax Highlight, Deleting Items for Search in File Explorer in Windows 10 version 1909
In Windows 10 version 1909 has changed how the search box in File Explorer behaves. If you are unhappy with its new design and features, you can try to disable the modern search box and restore the classic one.
In Windows version 1909 File Explorer has deep integration with the modern Microsoft Search platform, that is notable for the ability to include online and cloud search result to a locally performed  search query. This allows File Explorer to find documents stored on OneDrive without you opening the OneDrive folder. Also by this change. the search box in File Explorer has got the following limitations:
It takes two clicks at times to reset the caret position.
You still cannot delete a previous search.
To perform a right-click, you need to 'activate' the search box first with the left click.
Finally, the advanced query syntax is not highlighted any more.
You may find these changes very annoying if you frequently use the search function in File Explorer. The good news is that you can get back the classic look and functions of search box, as it was available in Windows 10 version 1803. Here's how.
To Restore Classic Search in File Explorer in Windows 10 version 1909,
Download the mach2 tool from its official GitHub page. To find which version you need, see the article Find if you are running 32-bit Windows or 64-bit.
Extract the ZIP archive to any folder you want. For example, you can extract it to the folder c:\mach2.
Go to the folder that contains your copy of the mach2 tool. E.g.
cd /d c:\mach2
Type the following command: mach2 disable 18755234.
Restart the File Explorer, or restart Windows 10.
Congrats, you have restored the classic search feature in File Explorer on Windows 10 version 1909.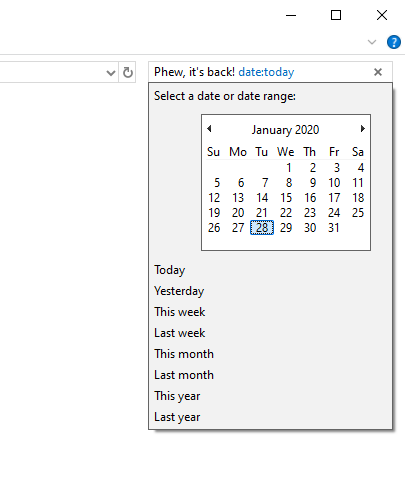 Please keep in mind that Windows 10 may revert this change later after its installs an update. Also, Microsoft may remove the ability to restore the classic search functionality from Windows 10.
Many thanks to Rafael.